User:Clv309/archive5
Archiving
Since you seem to have archived a few pages ummm how do i archive one? mines getting to long.--Sir Robin 23:57, 29 July 2007 (UTC)
Niagra falls
I liked my barrel ideas for total...hrumph
Atlandy 16:40, 30 July 2007 (UTC)
Help!
I need help with my user page,its all cluttered and the teplates are overlapping and there is a blue box around most of the page! Gello7 17:31, 30 July 2007 (UTC)
Buckets?
Why buckets?
I collect potato seeds =P DarkMagic 19:06, 30 July 2007 (UTC)
Ty
Tyvm.  —The preceding unsigned comment was added by Sir Robin (talk).
Proof!
I have proof right here that Beanball isn't a sock! O_o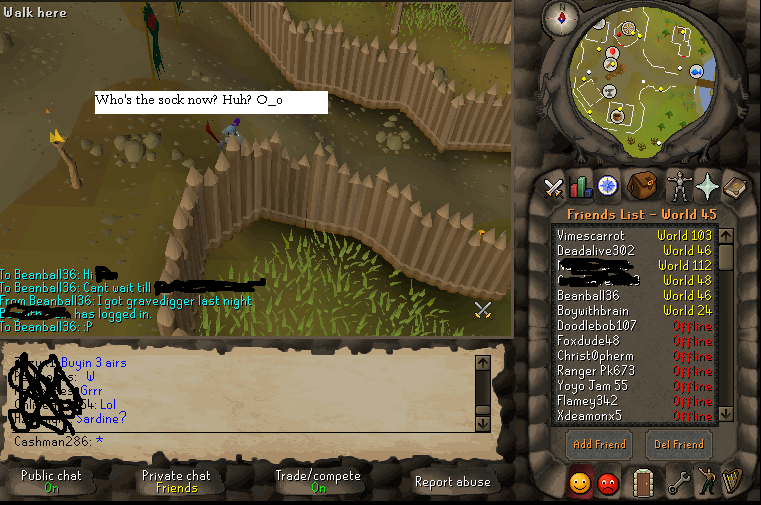 ---
talk|editcount15:19, 1 August 2007 (UTC)
Dossier?
Make a dossier subpage like how I did with myself?
Momento Mori Real PainNot Champagne20:34, 1 August 2007 (UTC)
Hmmmm....
I see, Indeed. Mr. Reeves 02:48, 2 August 2007 (UTC)
Re:Re:Proof!
It's not sheep voting if he did it of his own free will! I told him to vote, not to oppose! Believe it or not, some people just don't want you to be featured user!
talk|editcount13:15, 2 August 2007 (UTC)
Archiving Spectrum
Can your next archiving colour be brown/yellow? They're my favourite colours =].
Momento Mori Real PainNot Champagne14:35, 2 August 2007 (UTC)
About my banning...
Please read User:Shadowphrogg32642342/therealdoghumper for further details. Thanks
ShadowPhrogg32642342
Talk Sandbox Trade 20:10, 2 August 2007 (UTC)
Quote
you blocked me for 3 days, comment line said: Blanko. What is it you need from me, I do my best to help. =)!
Protect
Can you protect my userpage with a semi one so that vandals can't damage it--
Derial(Boywithbrain)
18:09, 3 August 2007 (UTC)
Why is Blanko perm blocked?
Look at his block log and see what Gangsterls said. If his sole intent isn't vandalism, he shouldn't be infinitely blocked. I do think that BLanko needs a block, though, but I think 2 weeks is good. Just some constructive criticism. On another topic, I would like not to be on your ignore list, as sometimes I have just messaged you for friendly conversation, only for cruel, unforgiving silence.
talk|editcount23:49, 3 August 2007 (UTC)
1. Just cause he's a crat doesn't mean he is superior to the rest of us. (No offense, Hyenaste). 2. I guess Blanko does deserve a perm ban. 3. You started this little feud we have by screaming at me on my last RFA, so quit typing in all caps about how I harass you. You just take every little step out of line in worshipping you as an attack. You disappoint me, and 3 other users I know, for how low you can go to just utter screaming. Some of us just don't wanna worship you. All I wanted was to be able to chat with you on RS every now and then, but in return, you scream at me. You seem to be attacking me more than have ever attacked you, or ever attacked any user. YOU are why I am like this. I havereasons for being angry at you, and I will reveal them in a subpage I am to make soon, and Chia says you can't block me for it. It's freedom of speech, and I am not going to be attacking you. I am going to justify my arguing, and make yours look like it should not even be. Quit acting like a victim. You have the whole wiki against me for no good reason. I am the victim here So long, and I will never give up. THIS IS NOT AN ATTACK.
talk|editcount01:01, 4 August 2007 (UTC)
Fakes
As mentioned on the Featured Users page I apologise for not voting for you, however I think something needs to be done about Ilyas' conduct on the Fakes VfD. I'm only nominating it again, because, with the new rules in place, a fair and balanced result could be achieved. Chaoticar 01:34, 4 August 2007 (UTC)
Gone
That sucks =( I hope you come back soon, if at all.
Tes Fan
02:34, 4 August 2007 (UTC)
Well...Bye. :(
Chiafriend12
Loon is best buttlord 03:09, 4 August 2007 (UTC)
Hi. I was just about to say sorry for maybe overcrowding the city infobox but you've gone so...bye. Chicken7 04:52, 4 August 2007 (UTC)
Another one?! Well, farewell, and another sane editor leaves the Wiki. :( Chaoticar 06:25, 4 August 2007 (UTC)
Hmm? What happened? Is this my fault? If so, I apologize. Sorry for letting my anger get the best of me :(.
talk|editcount15:07, 4 August 2007 (UTC)
I DIDN't KNOW THAT WAS A RULE! OMG QUIT SCREAMING AT ME!
talk|editcount15:37, 4 August 2007 (UTC) Comment You were told before
Atlandy 15:38, 4 August 2007 (UTC)
My RFU
What was that for? Aren't you busy being "gone", or are you still here to insult me and ruin my image on this wiki?
talk|editcount16:37, 5 August 2007 (UTC)
He has ruined his own image Atlandy 16:38, 5 August 2007 (UTC)
Not sure what you're talking about, and not sure you do either
I'm not complaining about you removing the vote but rather about boywithbrain criticizing me. If you don't know what you're talking about then don't talk about it. Thank you.
Ilyas Talk Contribs 21:34, 5 August 2007 (UTC)
RE:Redirects
?
Chiafriend12
Loon is best buttlord 01:11, 6 August 2007 (UTC)
Your bucket collection
I've decided to interview you on your bucket collection. Here are your questions:
When you collect buckets, do you only just pick the ones you see off the ground, or do you try to just get them by buying them?
How many buckets do you have now?
When did you decide to start a collection of buckets?
I'm asking these questions because I'm thinking of starting a collection of something myself.
talk|editcount19:51, 13 August 2007 (UTC)
Beanball IS not a sock
Clv, I am aware that a sock may also be a separate user under influece by others and thus leading to them voting. However, Beanball is not under heavy influece, is a seperate homo-sapien (does a sock puppet in that manner have their own account?) and thinks for himself. He is taking an unbiased stand and has decided that, in his eyes, Cashman is deservng. If you continue at this, I WILL block you. I will talk to cashman about this as well. If this "edit war" continues, both of you will recieve blocks.
Ilyas Talk Contribs 14:42, 14 August 2007 (UTC)
I am Beanball36. I AM NOT A SOCK PUPPET! WHY DO YOU THINK I AM A SOCK? I HAVE MY OWN OPINIONS TOO YA KNOW. SO JUST SHUT YOUR YOUR MOUTH ABOUT ME BEING A SOCK PUPPET. GRRRR Beanball36 15:24, 14 August 2007 (UTC)
Calm down.
Tes Fan
15:32, 14 August 2007 (UTC)
Harrumph
The bald sheep master Talk
Ok I'll tell you how. He watches discussions behind the scenes.
talk|editcount20:05, 14 August 2007 (UTC)
Rofl, no it's not! He really does. Btw, Ilyas has the grounds to block you since you continued the edit war. And if he does, don't even THINK about unblocking yourself, or it will be ban evasion and you will get de-sysopped and blocked again. I'm not saying he will, though...at least not for a week.
talk|editcount20:12, 14 August 2007 (UTC)
Clv, just because Beanball voted against you it doesnt mean you make a big deal out of it. Sure, hes new here but still allowed to vote in the RFU and have his own opinions.
This dude is evil
like hellKorak 20:17, 14 August 2007 (UTC)
True. And why was Gang even blocked?
talk|editcount20:18, 14 August 2007 (UTC)
No one here is going to be blocked. I would hope that people here are mature enough to talk about this, instead of just blocking people to win there arguments.
Tes Fan
20:22, 14 August 2007 (UTC)
How can I talk this out when I'm on her RS ignore list and get kicked from her clan chat for just being there? I can't. And for the thing Gang did....NO COMMENT. O_o.
talk|editcount20:24, 14 August 2007 (UTC)
I didn't come there for an argument. I came there just to chat with people.
talk|editcount20:37, 14 August 2007 (UTC)
And when did you take me off ignore?
talk|editcount20:41, 14 August 2007 (UTC)
Just shut up about me being a sock puppet. It's getting on my nerves, cause I'm not a sock puppet. I just wanted to vote. PHBT! =P
The bald sheep master Talk Beanball36 20:46, 14 August 2007 (UTC)
You forgot to log in :P.
talk|editcount20:48, 14 August 2007 (UTC)
Ooo you just got PWNED Beanball rofl!!!! But he wanted to vote, he said. He didn't say "I just wanted to vote for Cash cuz I know him better." Things would be different then. Think of what we are doing to Beanball just because he knows me in rl. He can only vote for you if he wants to vote in this, or it will go down as "sheep voting". We are pretty much ruining him in the community and taking away his voice by taking away his ability to vote.
talk|editcount21:00, 14 August 2007 (UTC)
Meh...it's only a dumb UoTM award I never really wanted. If this happened on RFA, though, I might take this a bit more seriously. But all I'm saying is: Look at Beanball as an editor, not a person who knows me.
talk|editcount21:48, 14 August 2007 (UTC)
He plans on getting more, though. Anyway, I'm sick of arguing. I say we all forget everything that's happened in the past of this wiki and just go on with out lives and renew our feelings towards everyone. Even if noone else does, I will.
talk|editcount21:53, 14 August 2007 (UTC)
10 mainspace edits is a bit more than none, Clv309. I could be called an "editor" even if i edited just once!
The bald sheep master Talk Beanball36 00:13, 15 August 2007 (UTC)
Very wise words, Roman Jerk.
The bald sheep master Talk Beanball36 15:00, 15 August 2007 (UTC)
Lol
Total Rune told me via PM that this Killer Cio guy told him off in Clv309's clan chat and when he brought player mod Trudy Kim into the clan chat, Clv309 temp banned Total from her clan chat for reporting Killer Cio who is a rule breaker. Lol clv309 is a dumb bitch. xD - RS Name: Dishonest Ed
It's really not nice.
talk|editcount17:45, 14 August 2007 (UTC)
PLEASE be careful.
Be careful what you delete. You deleted Image:Favicon.ico, and now we're having trouble restoring it to what it was before. Please be more careful in the future, especially with important images. Dtm142 23:17, 19 August 2007 (UTC)