User:Blackxp
Blackxp
Total level: 1928
 91
 93
 86
 92
 75
 69
 91
 66
 79
 85
 67
 76
 78
 66
 81
 87
 75
 82
 69
 71
 63
 92
 74
 79
 41
 1
 1
 1
 124
 300
 662
 ----
 ----
As of April 22, 2010
Hover for XP and rank. Ranks for RuneScape.
Welcome to Blackxp's wiki page. This article will be used to display my goals, achievements, and any other information pertaining to my runescape accounts.
Black Firexp
Total level: 1293
 1
 10
 77
 1
 68
 71
 1
 60
 85
 1
 80
 99
 1
 80
 99
 1
 99
 92
 60
 56
 62
 83
 99
 1
 6
 35
 0
 1
 3
 80
 400
 ----
 -1
As of April 22, 2010
Hover for XP and rank. Ranks for RuneScape.
This user plays RuneScape
as Blackxp.
Blackxp is my combat account in which I essentially do whatever I want. While Black Firexp is my skiller in which I enjoy playing under the limitations of a level 3. Whether this means doing quests that many people might not think possible, or getting a high slayer level.
Complete all quests, and keep up
Obtain level 138, and completely max out combat (99 mage/range included)
Trains stats so I can do everything (does not require 99's to acomplish this)
Fill up my costume room
Max out my POH
Complete all quests possible for a level 3
Obtain all music a level 3 can obtain
Get 99 in every stat possible (includes slayer/dungeoneering in longterm)
Stay level 3
Obtain Green GOP Robes (Have the others already)
Obtain all of the Mobilising Armies Robe sets for house (Have only the first set)
Obtain Gold CW armour pieces for POH
Obtain all of the Chomby Bird Hats
Obtain Firecape
Obtain Full Zombie for POH (idk how I dont have it by now...)
Obtain a Big Shark
Obtain a KBD Head
Obtain cash for: Dag Boss, Greater Cage, 2 x Magic Chests, and Marble Spiral Staircase in my POH
Obtain 62 Dungeoneering to get the tokens for: Bonecrusher
Max out melee (atk, str, and def to 99)
Obtain 99 Woodcutting
Obtain 99 Thieving
Without a doubt the most effort I put into runescape has to be put into the construction skill. My house clearly shows this effort. Below is a picture of my house setup. I initially used Runehq's house planner to plan it out and over time it has slowly maxed itself out. One of my top goals is to max it out even more by filling up my costume room. For the most part the cheaper items are all filled up and most minigame/quest items. I am working on aquiring more expensive items to put inside my costume room and of course finishing more minigames (Mobilising Armies is one of the few left).
Ground Floor: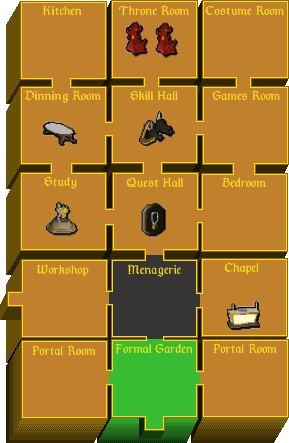 Dungeon:
Note: Used the RuneHq Dungeon Planner for the dungeon layout. I also used pictures from the runescape game guide.

Description of house: Coming Soon
Coming Soon:
| | |
| --- | --- |
| 2004 | This user has been playing RuneScape since 2004. |
This user has not completed this userbox.