User:Billy Bomb7
Jump to navigation
Jump to search
Billy Bomb7
Total level: 2722
 99
 99
 99
 99
 99
 99
 99
 101
 99
 99
 99
 99
 99
 99
 99
 99
 99
 99
 99
 114
 102
 99
 99
 99
 112
 99
 120
 1
 138
 399
 1,224
 1,480
 15,115
As of 07/18/2018
Hover for XP and rank. Ranks for RuneScape.

Other Pages: Stories; Chat; Userboxes; Sandbox
I've been playing Runescape since 2005 (right around when H'ween 2005 started) when a friend introduced me. At this point it's been 13 years since I started playing Runescape. The game has introduced me to countless friends who will last a lifetime. It helped me grow so much as a person when I started out, and taught me valuable life skills (like keyboard proficiency haha). I wouldn't trade the experience I've had with this game for anything. I forgot to take down the dates for most of my 99s after I came back to Runescape in the summer of 2016, so oops. I'm maxed now, as of 8/31/2017, so there's that.
I'm current co-leader of the clan AESOP. We're based on world 46 and it's a lively bunch. If you're interested in join a clan feel free to stop by our CC and we'd be more than happy to have you. :)
Quests, Mini-Quests, & Diaries
[
edit
|
edit source
]
I achieved my Quest point cape on July 21st, 2008 after the completion of Rocking Out. I've always enjoyed doing quests and do them as close to the release date as I possibly can.
This section of the page will pretty much be my plan for whatever crazy goal I have at the time (In order of Planned Completion).
Quests and Diaries Most Quests and Diaries will take priority over other goals as I simply enjoy doing them.
Master Quest Cape RIP
Agility
Attack I achieved 99 attack on 8/31/2017. It was my final 99 and I finally maxed after nearly 12 years. :)
Constitution
Construction
Cooking
Crafting
Defence
Diviniation
Dungeoneering
Farming
Firemaking 99 Firemaking was achieved on July 19th, 2012. I was number 78,031 to get 99 Firemaking. 
Fishing 99 fishing was achieved on October 25th, 2016. I raced Bobs Bread, with her trying to get 120 first. I won. :p
Fletching Using Clay Knives on whatever I can. 80/99
Herblore I achieved 99 Herblore on 9/23/2016.
Hunter
Invention
Magic
Mining
Prayer I achieved 99 Prayer on 9/25/2016.
Ranged
Runecrafting
Slayer
Smithing
Strength
Summoning
Thieving
Woodcutting
Completionist Cape
Trimmed Completionist Cape
This will more or less be about personal records or accomplishments.
Stealing Creation
Current S.C. Single Game Point Record: 107,134
Most S.C. awards from one game: 4
Most Clay Gathered: 2; 12,434
Most Clay Processed: 1; 12,434
Most Clay Deposited: 3; 44,220
Most Damage Done: 0
Most Players Killed: 0
Most Deaths: 0
Highest Personal Score: 3; 77,379
Lowest Person Score: 0 (and lets keep it that way)
I have finished 5Chidori's Super Quiz!, and I won this: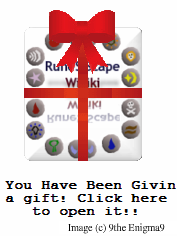 5Chidori gave me this for Christmas 2008!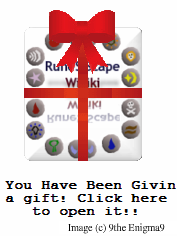 9the Enigma9 (totally awesome) game me this for Christmas 2008!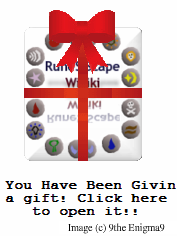 More or less a place to post information about my stories, new chapters, stories and etc. If you want to read them, click Here.
Pages I've created